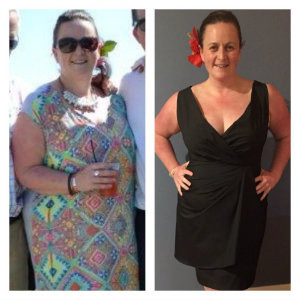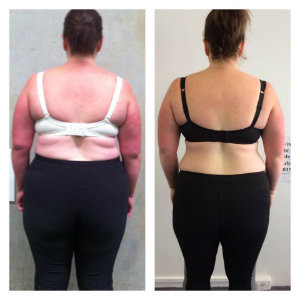 In the heart of every home is a Mum.
But far too often, she is run down, tired and not in the best of health. This generally comes down to her putting her kids, family and career needs ahead of her own.

In the few years that I have been a trainer, I have had the absolute pleasure of working with a lot of mums in our community. And everyone of them, has a story to tell.
When we first meet, the most common one I hear is a form of disappointment and frustration in their quest for a healthy, fit body full of energy after having the kids.
Before we even lift a dumbbell, we start by peeling back the layers and really address the core reasons 'why' one would want to start a fat loss journey and then 'how' to take that first step. Thankfully, mums have the amazing ability to multi task and generally kick ass!
So this week, we want to celebrate a special mum in our Mana Fitness community.
Introducing our Member of the Quarter; Kate Belleville. She is a supermum to 3 beautiful children and the Managing Director of her own company, Fisher Lane Mobility http://www.fisherlane.com.au/a...
Kate recently completed our 12 week body transformation challenge. With no exercise history to speak of, Kate first started very slowly with ICE in Feb this year. Two months later, she started FIRE and our MP Transformation challenge in April.
There were times when I thought Kate would throw in the towel...
First, her daughter broke her leg badly and needed surgery. She had to be in a cast for weeks. She needed to be carried up and down their two story house for simple tasks such as a visit to the bathroom. Kate had someone care for her so she could come to training.
Then, her other son broke his arm at basketball! But through it all, Kate just smiled and took it on the chin.
To top it off, she herself experienced knee, shoulder and neck pain during FIRE sessions. She sprained her thumb at ICE but still, she turned up every week and persevered.
She took to her nutrition preparation every week with precision. She was determined to give her program a red hot go. As a result of her hard work, she lost 7.2kgs and a total of 36cms in girth measurements. But that's just the physical changes. Her relationship with food changed, her health has improved and her mindset now astounds me. Truly remarkable effort by a single parent with a full time job.
So, we sat down with Kate to ask her the following questions...
Q1. What was your snap point? When did you say, it's time to change your lifestyle?
A1. I had thought about doing something about improving my health and fitness for a long time but failed to engage out of fear and lack of self belief. My body was giving me lots of indicators. My health was poor and I had been diagnosed with a heart arrhythmia as a direct result of critically low potassium levels. I didn't want to be on lifelong medication as I knew this could be improved with nutrition and lifestyle change. So that was my 1st snap point. The second decider was going on holidays in January of this year on a houseboat with friends and family. It was hot and activities consisted of swimming or skiing. I love swimming but to get up and back into the boat meant having to physically pull myself out of the water and onto the back of the boat. I couldn't.
So I missed out, made excuses why I didn't want to swim, it broke my heart as the kids were constantly at me to join in.
Q2. Tell us a little about your journey so far since joining Mana Fitness?
A2. It has been one of the most rewarding experiences of my life to date. To be experiencing a 1st at the age of 41 is exhilarating. I knew from the get go that I was going to give it 100%. I think I saw this opportunity as a lifeline, I wanted to change but I needed the right people around me. I needed to attend the MP classes every Wednesday to keep myself accountable and to be supported by others....it worked. At the beginning of my journey, week 1-3 MP I struggled big time with my food prep and fitting in eating all the food into one day. Then my metabolism woke up and eating became easier as I realised preparation was the key to success. My new routine was menu plan Friday night, Market to shop Saturday morning and Cook up Sunday afternoon. This had to be my priority and by including the kids in these processes I could involve them in my journey and make it about all of us, not just me.
My ICE classes of course were hard work for the first couple of months, really they still are but as my fitness improves and my weight reduces it has become more enjoyable. How I feel after training was another motivation to keep going, my energy levels were improving noticeably, my sleep also became a priority and improved and I was generally feeling a lot better within myself. There were lows along the way but they did not linger and the reason they did not was because of the support I received. I leant into this, I let myself be vulnerable which is a hard thing to do as a single parent and not so confident person. The Mana community inspired me to keep going. Little wins like my clothes fitting better and not feeling dizzy spurred me on.
When you decide you want something better for yourself, it's ultimately up to you to bring it about. I knew I could not do it alone though.
This journey has worked for me because I was clever enough to find the right people to teach me, to train me, understand me and want the best for me. This journey has taught me more about myself in 12 weeks than I've learnt in years. I am eating my way to health with wholesome nutritionally dense meals.
My whole routine has changed for the better, it's almost too hard to put into words. I believe in myself again and the relief that I feel that the best I can be is a real possibility is unexplainable.
Q3. Why did you choose to train with us?
A3. Let's be 100% honest. I stalked the Mana group on FB for ages before I made contact. I knew a few friends you trained and I was inspired by their strength and attitudes. I used to wish I could be part of that. I guess I just had a really good feeling about you after talking very briefly on a few occasions. It was when I really engaged and made contact that you instantly made me feel safe in your space.
You weren't showy or unrealistic!
I chose to train with you ultimately because I had heard so many good things about you both and your program. Also the intimacy of the studio appealed to me and the very structured combination of training meant I was getting the most out of the time I had available to train.
Q4. What advice would you give to someone right now who is thinking about a lifestyle change?
A4. Stop thinking about it and just start doing. Ana and Jose started with me just moving, that simple, just moving. If you can relate in any way to what I've written above, then I bet you are sick and tired of that voice in your mind telling you you need to do something. I had that voice, I don't anymore. It's quiet in my mind because I stopped thinking about it and started doing it. Identify your "why" and run, shuffle, walk full bore in the direction of your desires.
Live a full life because a life lived in fear is a life half lived.
THANK YOU KATE
If you would like to know more about our MP Transformation challenge, click on the link attached for full details. Register your interest on our website for our "Fat Loss Seminar" on Wednesday 22nd of July at 7pm.
http://www.manafitness.com.au/services/mp-challenge.
Back

To Blog